Update: New & accurate Allies/Enemies + battle schedule updated. Freezie has also asked me personally to delete the screenshot of him begging to spare Andrew's soft IW. Because Freezie is a close friend of mine, I respect his decision to keep this conversation we had confidential. But we all saw & know who's really afraid. Isn't really a question. Anyways I shaved down all the cancelled invasions, shaved down the useless capping allies and now since Drew has childishly taken shots at me for trying to improve my life by removing myself from high school at 18 to go get help so I can stay alive, IW will get an extra hard beating on Saturday. Unfortunately for drew and a lot of his squad, sitting in the basement on the computer is the only real quality of life they have. I pity them, but at the same time when I work 40 hours a week & count my bread and do this literally whenever I have free time I'm willing to spare and still can get this army to 50+ in my sleep, it really just makes me laugh. Andrew & those kids at IW won't ever know what real life is until they leave their stinky rooms and breathe in some fresh air. Better hurry up guys, Ubering the rest of your life ain't fun, just ask Elm. Anyways, I was able to find some common ground with Freezie, and a new rule has been implemented way further ahead of schedule thanks to me, preventing armies from transferring servers and running away like women when I invade their servers. In a matter of minutes, I helped get a rule change done you were waiting on for weeks in literally two minutes. Just goes to show how much of a joke this has been lol, hopefully we're on the way to change. That is the goal. The details are below. Death to IW, NDA stronk

I gave you a chance, you've chosen death instead. This will be quick. You should have just given me Mammoth, your funeral. 🙂
SWAT &

The New Dawn Alliance

officially declare war on the

Ice Warriors.
First I'll start with this. Since ya'll wanted to be petty with the server trading crap, I thought I'd hop on the wave yk and be petty too so if IW want they can go invade Hibernate from their brother allies tomorrow and get them to hate them too like everyone else lmfaoo. Outback's officially returned to the SWAT empire & currently our acting capital until we take back Mammoth and more servers throughout the week.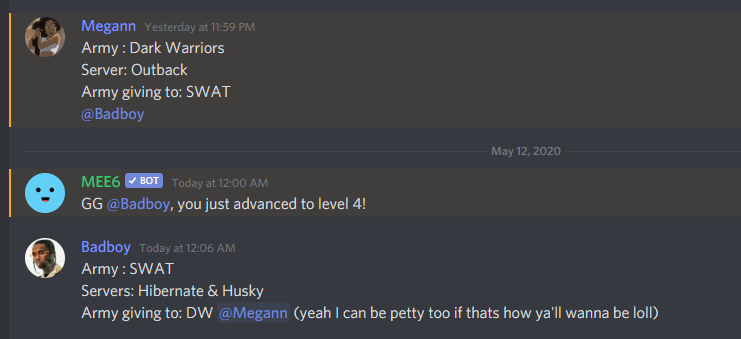 Our empire now looks like this:
Capital –

Outback
Co-Capital –

Glacier
<><><><><><><><><><><><><><><><><><><><>
The New Dawn Alliance is officially resurgent and will consist of the following goated armies:
SWAT
Doritos
Elites
Royals
Athletes
Light Troops
Tree Cult
Skaters
Games
vs.
Ice Warriors – An army led by a man who lives his life behind a computer screen. Truly Iconic
Golds – An army led by a moody teenage girl who used to be CPO admin. Better go call for support
Animal Kingdom – Dont even gotta say anything lol
Sun Troops – An army that was created way way back and never saw sizes of 20 in their history until now. Really a force to be reckoned with
Golden Troops – An army that was actually good & respected once when our creator Ganger90 led them. Now they're just a couple goons who didn't even have real perms to open GT and use our moddo "Hell Will Be Unleashed" when the only thing GT could ever unleash hell on was Lord Pain in 2012 when ya'll couped him. One of my leaders owned your site domain & was admin for weeks could've purged GT site ten times by now if I wanted to but that'd make me pity you even more lmfao your a joke
❗ Saturday ❗
***SWAT & THE NDA WILL BE ANNEXING OUR CAPITAL FROM THE ICE WARRIORS ON SATURDAY. WE WILL NEED ALL HANDS ON DECK FOR THIS INVASION. IT WILL BE AT 6:30 EST // 11:30 UK TIMES** 70+ IS EXPECTED. WE WILL ABSOLUTELY DESTROY THEM ***
I ain't wanna do it to them but IW's been the most annoying, petty, & unprofessional army from the start with the exception of Whats Up 11 & Iceyfeet and a few IW soldiers since I hopped on this discord. And the fact that they hired Zuke after we exposed the horrid things he did as a leader just goes to show that they wont be changing for the better any time soon so we will take them down at the knees and make them beg for mercy. Only difference between you and I Andrew, is that I will show you none & that I will win. This war will not end until you are force treatied. 
And let me be perfectly clear, I did not start a world war over colored servers on the map, I ain't a childish fruitcake. We are fighting for the future of CPA as we know it, believe it or not. As a veteran of this game who's seen this same story play out before, I feel it is my job to do this. History does repeat itself almost every time, lets put a stop to that, shall we? People like Andrew24 should never have been in charge of the map, top ten, or any media-related site regarding armies to begin with when he LITERALLY LEADS AN ARMY. If this isn't bias in the first degree folks, I don't know what is. I see CPAC under Zakster & Mach resurgent. OK, maybe its not THAT BAD, not yet, but still it should not have ever been allowed in the first place and I have no idea what ya'll were thinking when you agreed to this. Technically Freezie & 32op shouldn't be on the board either if we're being 100% fair here but unlike Andrew, Freezie & 32 haven't tried to use CPOAL as a platform to keep their armies at the top like drew has been with IW, so I see no issue with it. But at this rate, if we leave Drew in charge with Freezie now gone with no one to keep him in check with CPOAL, we can keep just following whatever rules and guidelines IW leaders want for us and that's how you'll be run as a community. If you want that, go right ahead, but SWAT and the armies of the NDA will not stand for it. Our goal is to not only take Mammoth and destroy IW & their allies, but to get this guy to retire and maybe just MAYBE he'll take a back seat and run his site fairly & with no bias, or maybe just attempt to get a life at his age yk like most people do when they grow up. I doubt it. This is war. We will prevail. The ice has already begun to melt, what a beautiful site.
I gave you an out, IW, and instead you've chosen death, and death will come to you sooner than later, I can promise you that.
~Badboy, SWAT Commander & Legend
Filed under: SWAT Army | Tagged: Club Penguin SWAT, CP SWAT, Home, SWAT Army CP, SWAT Army of Club Penguin, swat of cpo, swatof cp, swatof cpo, swatofcp |